Swathing and widespreading in a compact package
This Compact version of the XF model is designed with a headstock that is positioned just behind the auger, which means distance from linkage to cutterbar is as low as 70cm. This is especially appreciated when using smaller tractors in hilly terrain.
EXTRA 332XF Compact features the innovative XF auger technology for crop collection with a minimum of soil contamination. This highly flexible solution is suited to a wide range of applications – in combination with rear mounted mowers, as a single machine or in combination with a loader wagon for zero grazing.
The crop is cut and placed in an airy, box-shaped swath in widths of 1.0, 1.15 or 1.30m, not flat on the ground, unlike typical plain front mowers. Making it easier to pick up afterwards.
When widespreading is the preferred option, changing from swathing is done in less than 5 minutes. Simply remove the crop guide wings and you are ready to go.
The advantages:
Unique actively driven swathing auger system
Compact headstock
3 different swath widths (1.00, 1.15 and 1.30m)
Easy and intuitive setting of swath widths
Low horsepower solution
Flexibility to suit a wide variety of mowing applications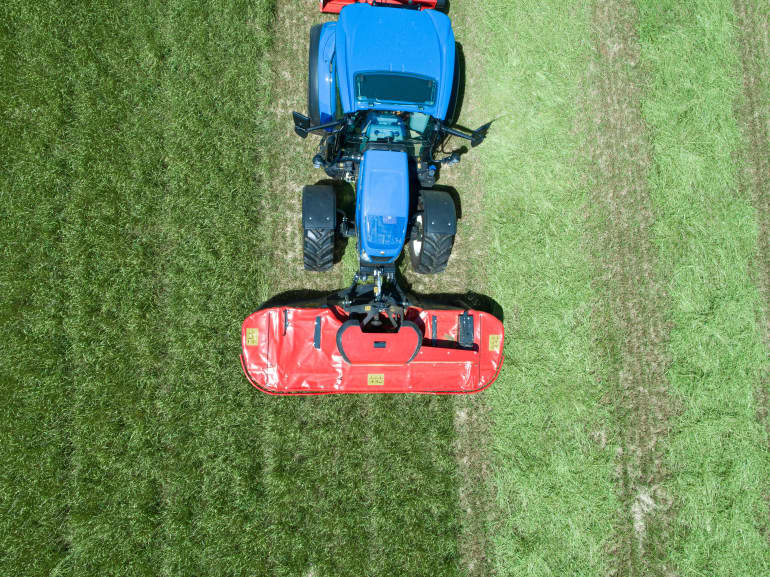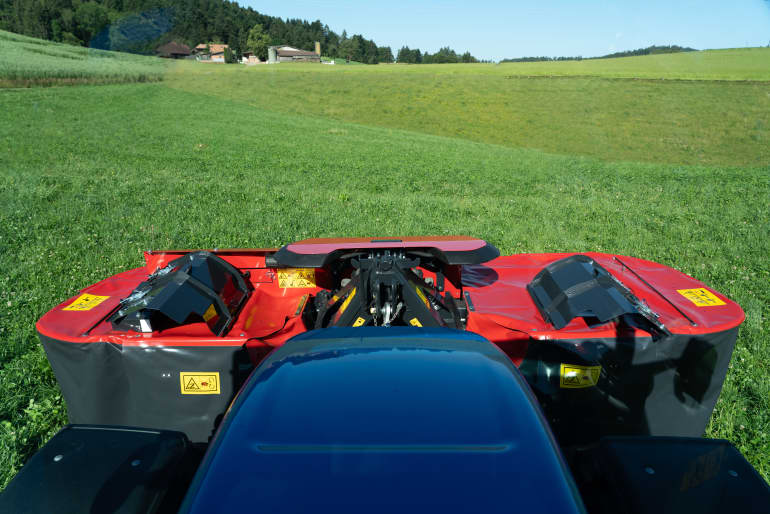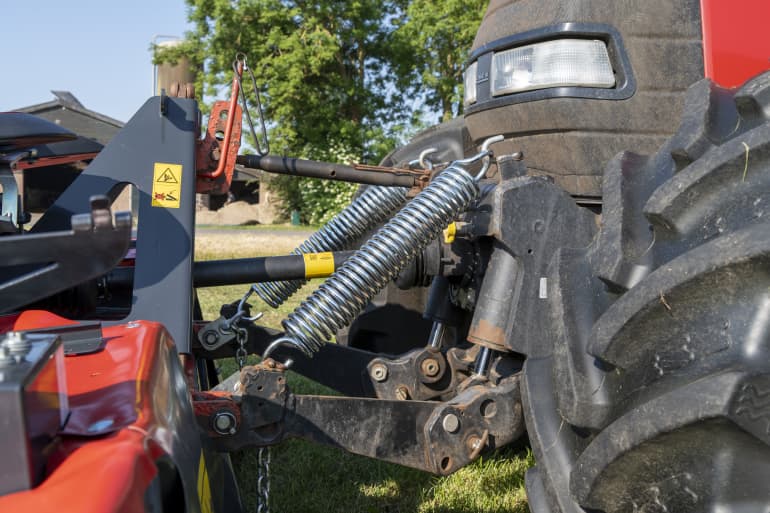 A very compact headstock, positioned right behind the auger, brings mower and gravity point close to the tractor. This is especially advantageous when operating with small tractors in very hilly terrain, or when accessing narrow buildings. The distance from linkage to cutterbar is only 70cm. This also ensures excellent visibility during operation and transport.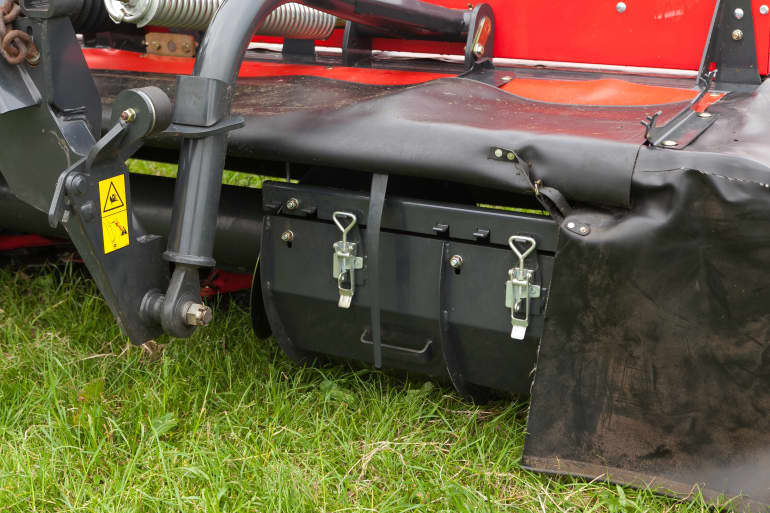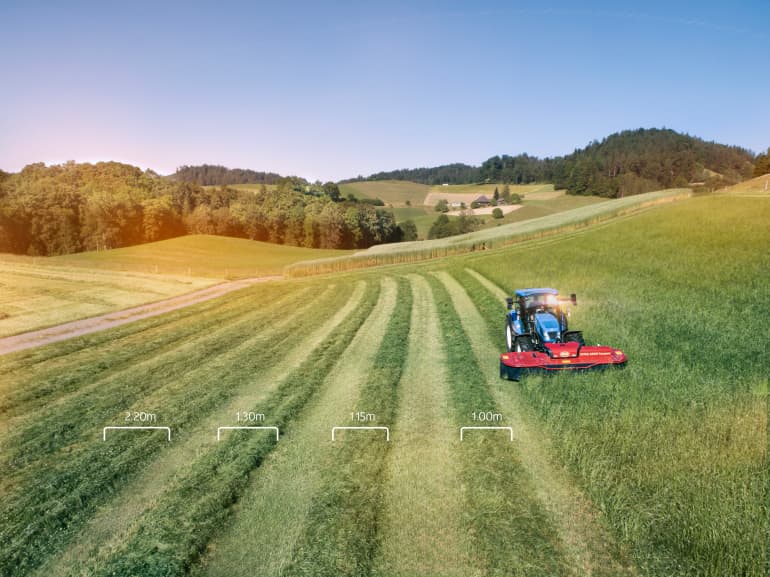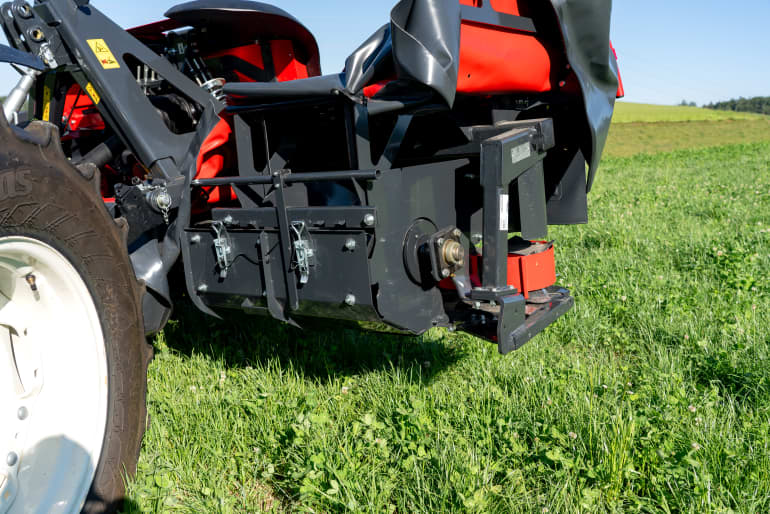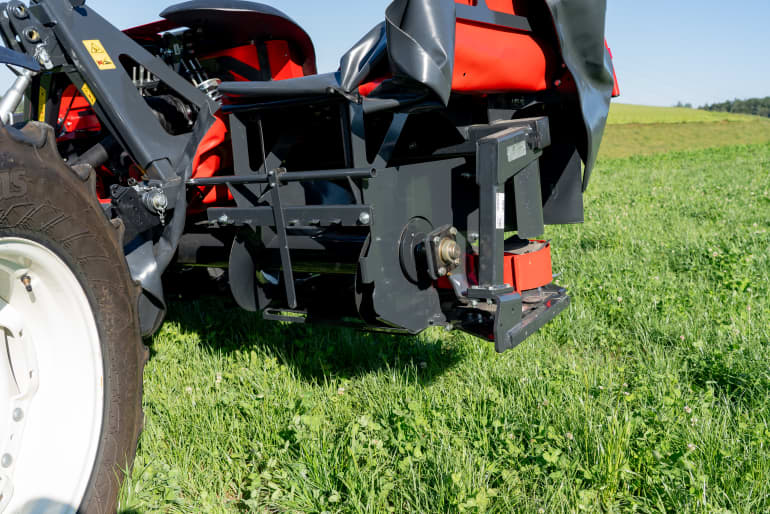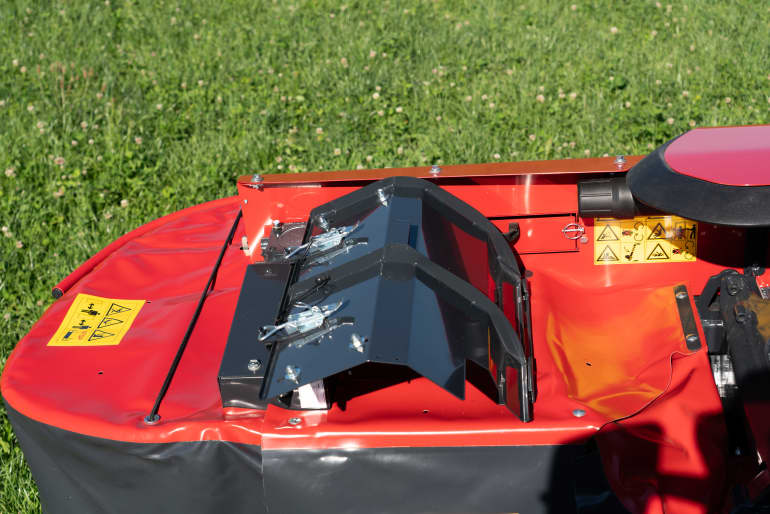 All Set in a Minute - Easy Adjustment of Swath Width
Changing from one swath application to the next is made very easy, without any downtime or need for rebuilding the mower.
Changing between the different swath widths is done in a minute and can be done directly in the field - no tools required.
There is no need to leave the field and go back to the workshop for changing from swathing to wide spreading. All you have to do is release the locks on each guide plate, swipe them to the requested swath width, and lock again.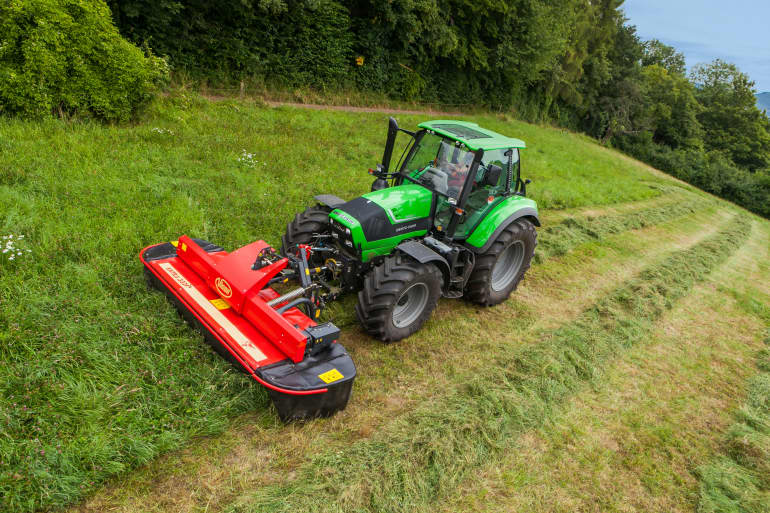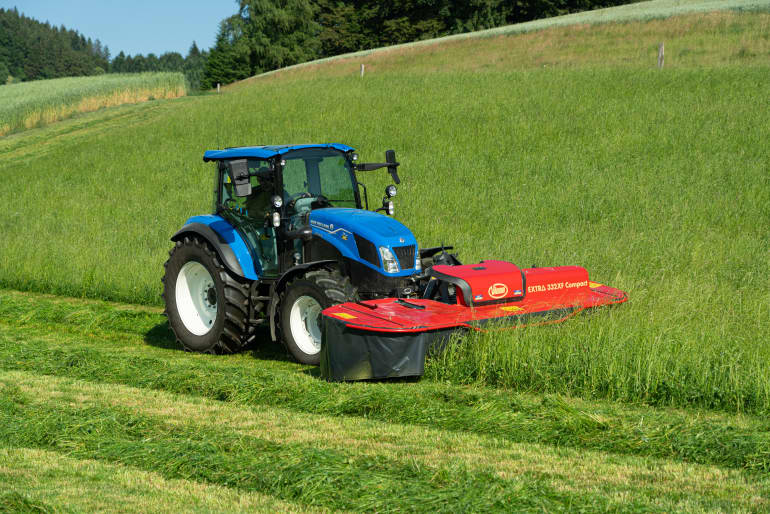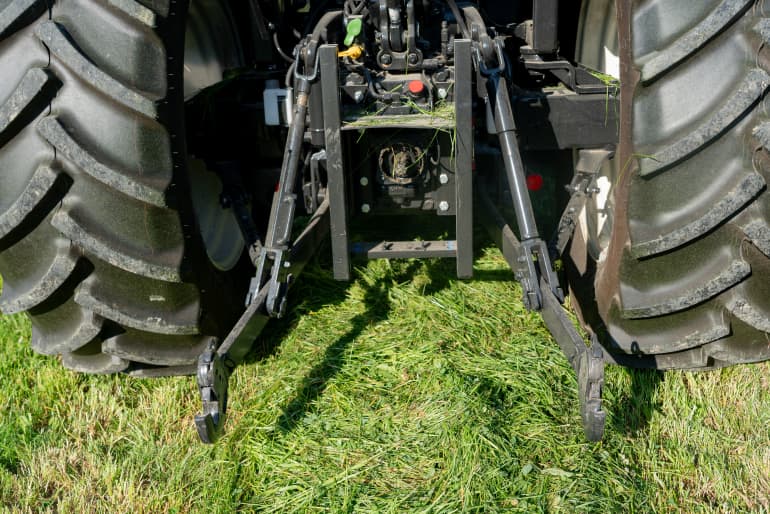 The crop is not touching the ground, but moved as it is cut, leaving no chance for dirt or soil being mixed up with the swath.
The auger immediately moves the crop away from the discs, inviting for excellent cutting performance.
 Each side of the auger is working in combination with a guide plate, that efficiently transports the crop to the middle without any crop loss or crop pollution.
The EXTRA 332XF leaves a fluffy box shaped swath, and is not just dropping the mown crop onto the ground.
The EXTRA 332XF is not moving two swaths next to each other like drum mowers concept typically does, but places the crop into one even and airy swath. This significantly speeds up the drying process and prepares the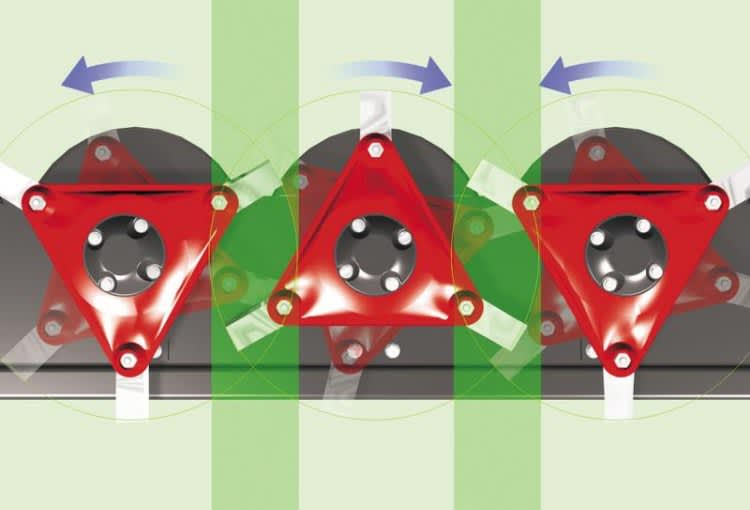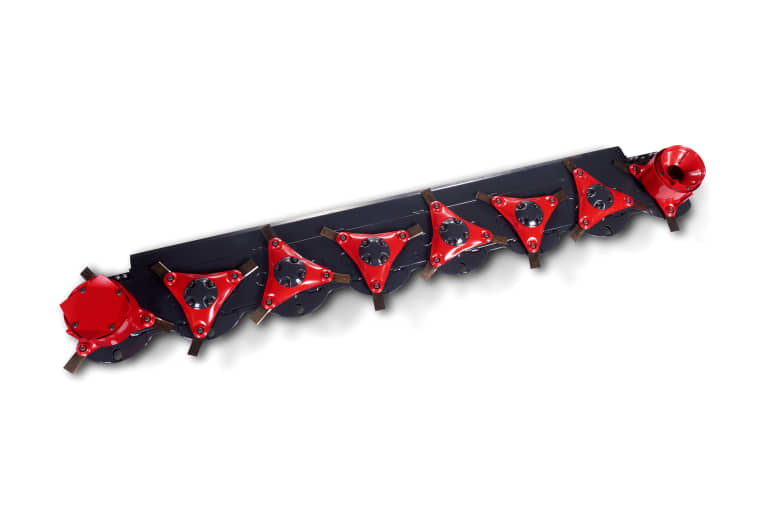 The EXTRA cutterbar is designed for low maintenance and offers a very quiet operation.
Operators will immediately love the virtually quiet operation of the new cutterbar – convenient during a long and busy working day
Fully welded cutterbar for a very strong construction.
Even number of contrarotating discs for improved overlap.
Three bladed discs for more cuts.
Smooth stone guard design for excellent cutting quality.
High oil capacity ensuring low working temperature.
Low noise level thanks to specially tooled gear wheels.
Twisted knives for a clean cut in all conditions.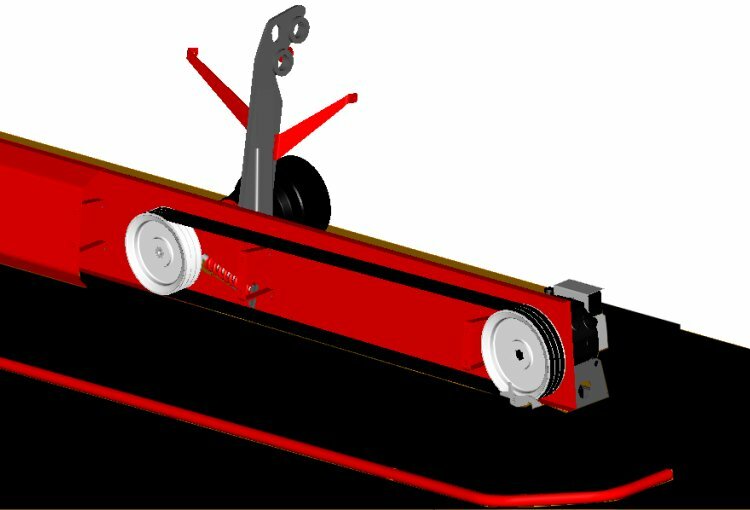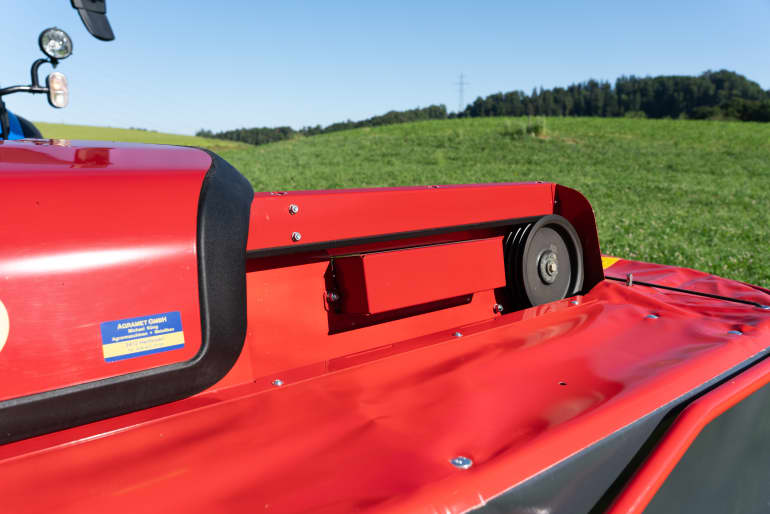 Standard PTO speed is 1000 rpm. However by simply switching driveline pulleys, 750 rpm for reduced fuel consumption can be achieved. 
This makes it possible to maintain the correct PTO speed, but using reduced engine revs, creating an opportunity for lower fuel consumption – an innovative solution to the problem of front PTO systems not offering an Economy speed.