EXTRA 700 Series - Our New QuattroLink Racing Team
EXTRA 732T-732R and 736T are new members of the EXTRA 700 model range.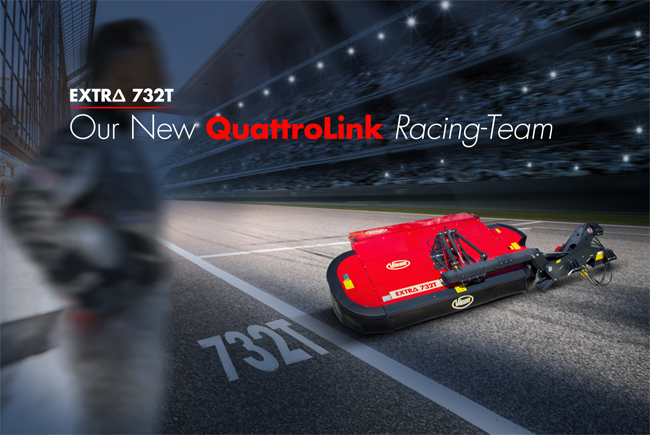 Vicon unveils its new 3.18 and 3.60m mounted mower conditioners, adding 3 new members to its newly released EXTRA 700 series of mounted mower conditioners. They are powerful mower conditioners with superb ground tracking, thanks to the new innovative QuattroLink suspension concept.
QuattroLink – Racecar Suspension Applied for Mower Conditioners
EXTRA 700 is fitted with the new Vicon suspension concept called QuattroLink. QuattroLink provides an accurate tracking ability and a highly flexible working range. The mowing unit is pulled by the 4-arm suspension, fitted onto a fixed carrying arm that allows the mowing unit to float independently over the field, adjusting precisely and instantly to any changes in ground contours.
The 4-arm suspension provides the mowing unit with an exceptional flexibility in adapting to demanding ground contours. The mowing pattern of EXTRA 700 is extremely flexible with a vertical working range of 400mm upwards and 300mm downwards and a transverse adaptation range of 30°.
Optimize Output by Customizing Overlap
The EXTRA 732T/R and 736T allows you to maximize mowing capacity and utilize full cutting potential. Position of the mowing unit can be adjusted infinitely within a 150mm span on the carrying arm, allowing cutting position of the EXTRA 732T/R and 736T to match working width of the front mounted mower conditioner or rear wheels of the tractor. The 4 arm suspension is attached to the carrying arm by two clamps.
The EXTRA 700 series includes the following models:
| | | | |
| --- | --- | --- | --- |
| Model | Working Width | Conditioner Type | Adjustment of Overlap |
| EXTRA 732T | 3.18m | SemiSwing steel tines | 150mm mechanical setting |
| EXTRA 732R | 3.18m | Rubber rollers | 150mm mechanical setting |
| EXTRA 736T | 3.60m | SemiSwing steel tines | 150mm mechanical setting |
| EXTRA 736T Vario | 3.60m | SemiSwing steel tines | 400mm hydraulic adjustment on the go |
| EXTRA 7100T Vario | 9.80-10.20m | SemiSwing steel tines | 400mm hydraulic adjustment on the go |
23. January 2017