Bromex Mplus - a side pivoting chopper
Bromex Mplus is a multipurpose chopper for road maintenance, clearing out filed edges, ditches and hedges will guarantee the best performances in all working conditions. Excellent performance with high versatility now offered with increased working capacity.
The Bromex M plus is compact, rounded shape for a perfect view of the chopping area but with strong articulations which allow high manoeuvrability and ensure high reliability during work operations. The major offset ability compared to Bromex M standard allows more capacity and simplicity in use.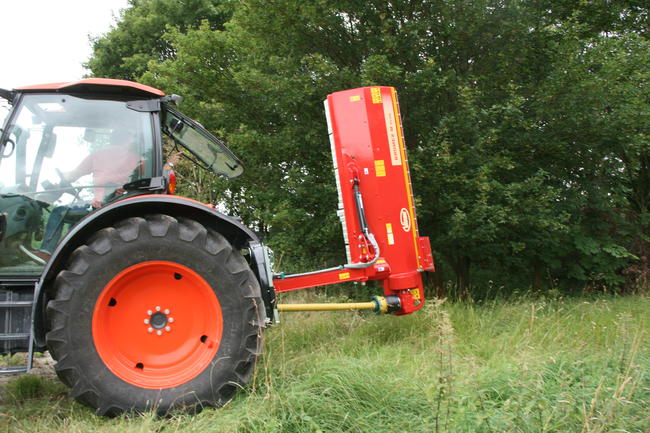 Fast and easy in use, excellence performance as standard for the Bromex M plus side pivoting chopper.
Bromex M plus – Specifications in brief:
| | |
| --- | --- |
| Working Width | From 2.0 to 2,5 m |
| Weight | 950 kg |
| Pivoting angle | -65° and +90° |
| Offset distance from tractor center/total | 1.2 m - 3.5 m |
| Power Requirements | 70/120 hp |
| PTO Speed input | 540 rpm |
| Rotor speed | 1998 rpm |
| Rotor size | 169x10 mm |
| Hammer blades nr. | 28-30-34 |
| Transmission belts nr. | 5 |
18. April 2017