Optimized For Efficient Dry Crop Operation
With a 8.05m working width and optimized for operating with dry crops such as hay and silage, the new Fanex 804 elevates the range of compact tedders to a new level. It also features the new HexaLink driveline which means a transport width of less than 3m.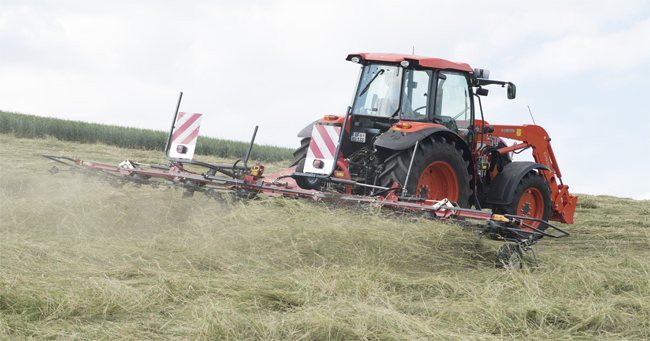 Achieve More
The Fanex 804 is a new mounted tedder in the CompactLine series, providing over 8m of working width. This offers farmers the opportunity to go wider and thereby operate more efficiently. Despite the width and a weight at only 960kg discard the need to increase tractor size. The design, with 8 compact rotors and a generous overlap, gives increased efficiency with dry crops like hay.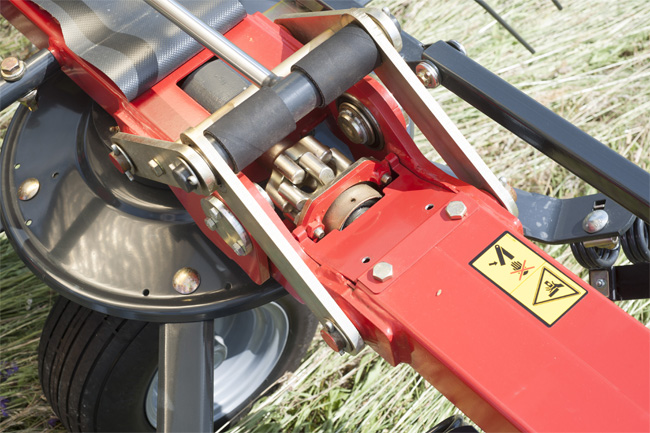 Vicon HexaLink finger clutch permits the rotors to fold 180° for transport
Compact Folding for Transport
Despite its´ 8m working width, the Fanex 804 will fold to just under 3m, making it a very compact unit for transport. The two outer rotors are fitted with the new Vicon HexaLink finger clutch, a simple, yet efficient drive system that permits these rotors to fold 180⁰ for transport. The remaining rotors are driven by double universals joint, providing a strong and efficient transfer of power.
Built to Last – Minimum Maintenance
The Fanex 804's designed for superior durability and ease of maintenance. It has a strong package of Vicon features, including 2 vibrations dampers and strong V-shaped central frame unit which ensures stable and accurate running characteristics. The rotor gearbox will just keep on going, and only requires greasing once per season, and at just one point! The combined result of all of this is minimised machine downtime.
3. December 2014